Tail door gullwing window pre 2002
Uncover the ultimate ventilation solution for the rear door of your Land Rover Defender with Explore Glazing's revolutionary gullwing window. Designed and introduced exclusively by Explore Glazing, this exceptional product reimagines your rear door by transforming the original window into a cutting-edge gullwing design, providing unmatched airflow for your thrilling adventures.
On which side of the car is the placement?

Dimensions
---
Width: 790mm
Height: 490mm

Suitable for
---
Land Rover - Land Rover Defender 90 - 110 model pre 2002
Land Rover - Land Rover Defender Hard Top 110 3-door pre 2002
Other information
---
Article number: DEF-TAIL-GW-OLD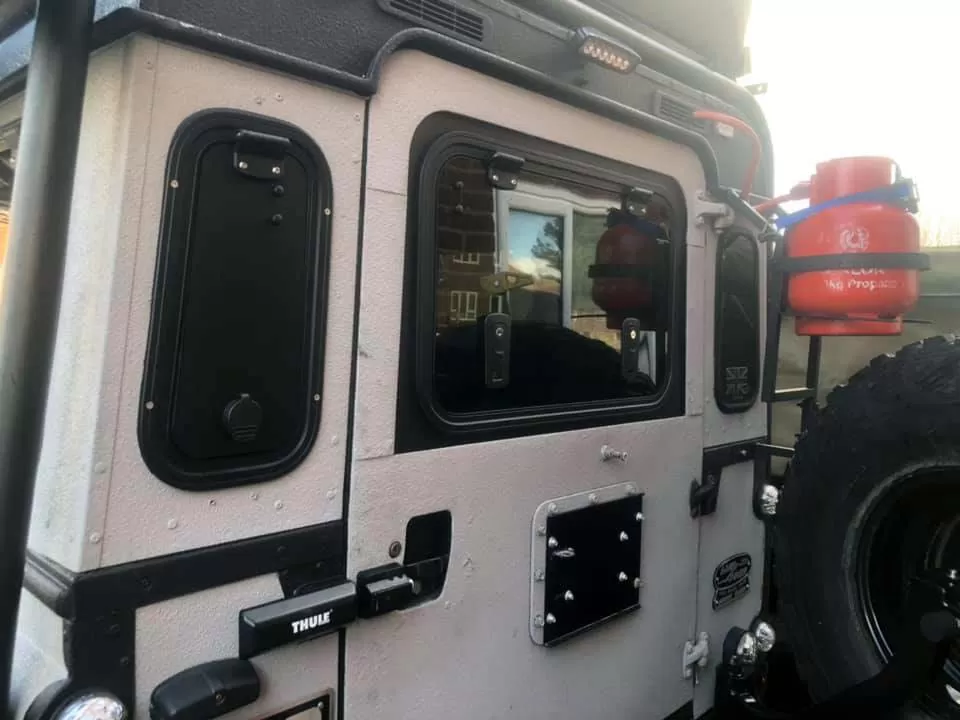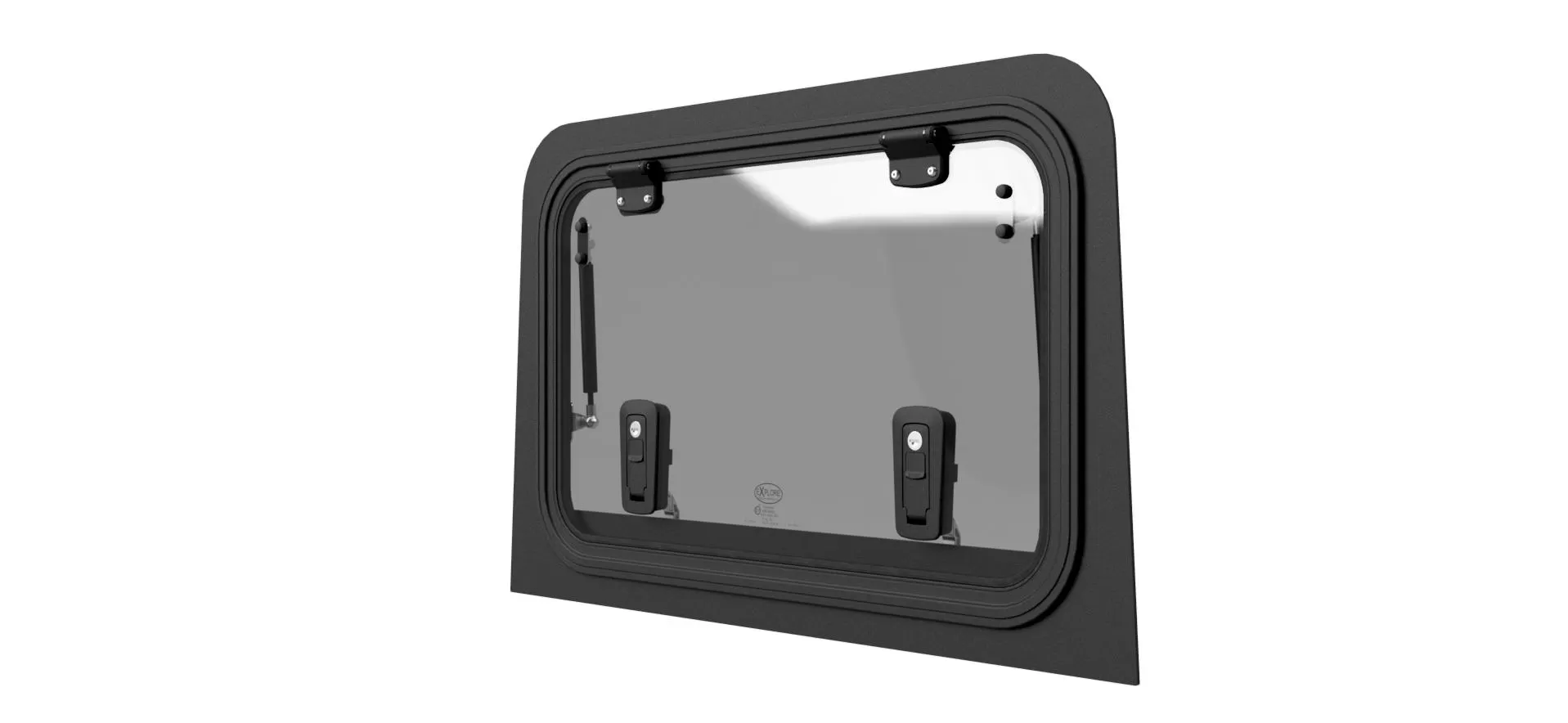 Tail door gullwing window pre 2002
The Explore Glazing gullwing window is designed to perfectly fit the dimensions of the original tail door window in your Land Rover Defender, allowing for a quick and easy installation process.
Crafted with a durable tempered glass plate, two robust gas springs, and two lockable compression latches, this window ensures a secure and tight seal. The aluminum frame is meticulously finished with a high-quality black industrial powder coating (RAL 9005), providing excellent resistance to weather-induced discoloration.
The gullwing window comes fully pre-assembled and ready to be effortlessly mounted in your Defender's tail door!
The glass variant is available with 5 mm tempered safety glass, certified ECE 43R and DOT, in privacy grey, providing a light transmission of 20% (80% tinted). This variant enhances privacy and adds a sleek aesthetic touch to your Land Rover Defender.
Installation
The window dimensions perfectly match those of the original window, ensuring a seamless replacement process without requiring any modifications to the vehicle's bodywork.
The Land Rover Defender's tail door comes in two different models, each with its own mounting method:
For models up to the year 2002, the window is installed using glass retainers.
For models from the year 2002 onwards, the window is installed using a sealing rubber.
The assembly process is straightforward and efficient, allowing for easy installation without any complications.
Rest assured that the window is securely mounted within the original sealing rubber, providing a reliable and snug fit.
For detailed instructions on how to remove and install the window, you can download the workshop manual's removal and installation guide located under the 'prices and guides' section.
Upgrade your Land Rover Defender with confidence, knowing that the window replacement process is hassle-free and supported by comprehensive instructions. Enjoy the convenience and functionality of your new window with ease.
Prices and guides
Price €480,-
Click on one of the following files to open or download them.
Tail door gullwing window pre 2002
On which side of the car is the placement?

Follow us on Instagram
Send us your best picture and get your spot on our Instagram wall!
We're excited to see the end result and want to share it with all other fans, so please submit your picture of your car with your Explore Glazing products.