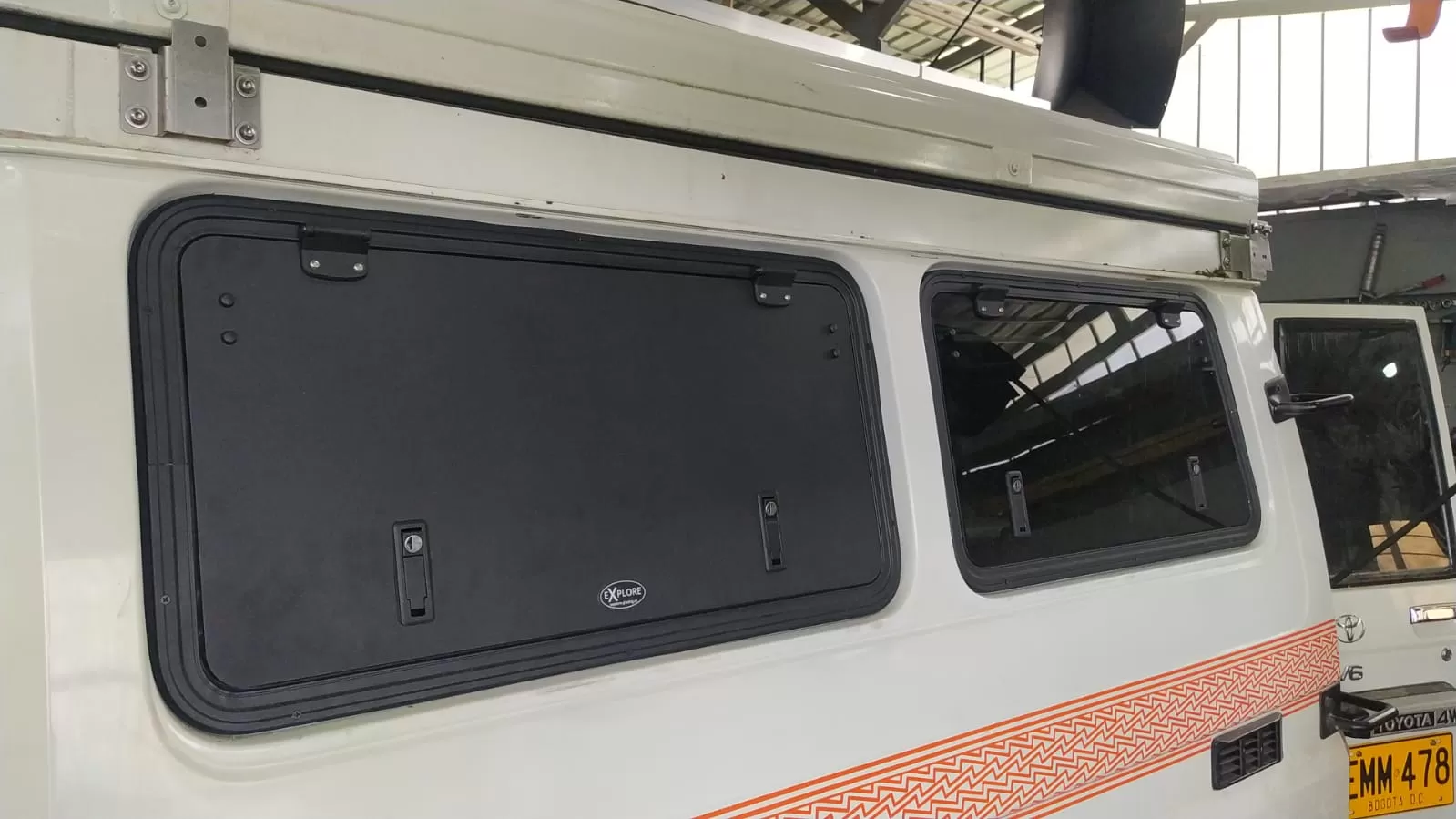 Gullwing aluminium front side information
The expedition window has the same dimensions as the original side windows and can be installed quickly and easily.
An aluminium plate, equipped with two robust gas springs and two lockable compression latches, ensures a perfect seal.
The entire gullwing - the frame and the hinged part - is finished with a black, high-quality industrial powder coating (RAL 9005) and is therefore insensitive to discoloration due to weather influences.
We deliver the expedition window completely pre-assembled and ready to install!
The expedition window can be expanded with an Explore Overlander Light.
Installation
General
The dimensions of the window fully correspond to the original window.

The flange of the body is slightly curved. For an optimal fit of the new Explore Glazing window, this flange must be made flat.

The inner and outer bodywork are two separate parts and are spot welded. This can cause differences in the hole size of the windows, which can influence the fit of the windows. You should therefore center the window as accurately as possible.

Easy and quick to assemble.
The gullwing window is mounted with EPDM foam rubber, M4*20 stainless steel mounting screws and sealed with adhesive.
For an additional charge, the stainless steel mounting screws can be supplied black powder coated. This option is offered to you as standard.
A mounting set will be offered with your request and consists of:
drill 4.2 mm
cartridge of professional caulking compound
brush
rubber to remove the excess sealant
Check out our YouTube channel for installation videos:
Prices and guides
Click on one of the following files to open or download them.
Follow us on Instagram
Send us your best picture and get your spot on our Instagram wall!
We're excited to see the end result and want to share it with all other fans, so please submit your picture of your car with your Explore Glazing products.